Profile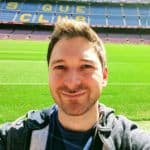 Alex Agrotis
Working from home!
Curriculum Vitae
Education

St Albans School (2002-2009), University of Bristol (2009-2013), University College London (2013-2018)

Qualifications

BSc Biochemistry with Study in Industry (2013), PhD in Molecular Cell Biology (2018)

Work History

Delivering Ikea catalogues, car park attendant at music festivals, bar staff at Wetherspoons.

Current Job

Post-doctoral Research Associate

Employer

University of Dundee (MRC Protein Phosphorylation & Ubiquitylation Unit).
Favourite thing to do in my job: Design a great experiment and discover something new!

About Me: I am a post-doctoral researcher living and working in Dundee, Scotland. I enjoy running and playing the drums.

Read more

I'm half British and half Cypriot, born and raised in the UK. I did my PhD in London and I am currently living and working in Dundee, a sunny city near the East coast of Scotland. I enjoy running, swimming, cycling, watching football, eating, playing PS4 and looking at memes on the internet. I like rock music and I play the drums.

My Work: I study the tiny recycling centre that is inside every cell in your body - the "proteasome". It keeps your cells healthy! Understanding how it works could help to cure diseases.

Read more

Your body is made up of trillions of tiny cells. Inside your cells, loads of chemical reactions are going on – this is what makes life happen.

Most of the work in your cells is carried out by proteins. Proteins are like nano machines that can do almost anything! There are thousands of different types of proteins: they make up your muscles, copy your DNA, help kill bacteria, and much much more.

Proteins can get damaged by other chemical reactions going on in the cell, and this can cause them to clump together, become toxic and kill the cells. That's what is thought to cause neurodegenerative diseases such as dementia and Parkinson's.

Luckily, damaged proteins can be destroyed by the cell to stop them causing harm. This is mainly carried out by a cellular component called the proteasome (and it just so happens to be made of protein itself). The proteasome is like a mini paper shredder – damaged proteins go in one end, and chopped up protein comes out of the other end. Nothing goes to waste, since the chopped up proteins are used to make new proteins. In that way, the proteasome is like a recycling centre of the cell.

My job is to better understand how the proteasome works, in the hope that this knowledge could help to cure disease. If we could find drugs that make the proteasome work better and boost the degradation of harmful proteins, then we could possibly find new ways to treat neurodegenerative diseases. In contrast, some cancers hijack the proteasome to help them grow faster, so drugs that stop the proteasome from working could be (and some already are) used to treat specific types of cancer.

To do my research, I use genetic manipulation and biochemistry experiments. I also look at how proteins are affected in the cell when the proteasome is not working properly. The lab I am in uses yeast as a model organism, because the proteasome is very similar in yeast and human cells, but yeast are much easier to grow and mutate.

My Typical Day: Get out of bed, drink coffee, do experiments, finish other experiments, go to talks, read papers, write up experiments, plan more experiments!

Read more

In Science I think there is no normal day, it changes quite a lot.

I have probably the worlds shortest commute – I live in a flat opposite my lab. So sometimes I go and set up an experiment before I've even had breakfast, because I can always pop home afterwards!

Coffee is an important start to the day. I will usually sit at my computer whilst drinking a mug as I plan what to do in the lab. The lab is right next to my office, so I can move back and forth between the two.

Once coffee is finished, I get to work by growing yeast and preparing new experiments. Experiments can take a few days, so I normally make them overlap to make the best use of my time. For example, making new DNA is a big part of the job (we call this 'cloning'). There is always cloning to do! Overall, it can take up to a week to do this, with small steps done each day.

Every now and then I will have a meeting with my boss (or 'P.I.' which stands for 'Principle Investigator') to discuss results and make plans.

Once a week we have lab meeting where we share our results and have generally friendly discussions and get advice from other lab members.

Usually we have lunch as a lab. This is a good time to catch up and even make plans for socialising outside work.

In the afternoon, I might go to be in the audience for a talk by another scientist. This is a good way to find out about new research and learn about what the other people in my department are doing.

Later in the afternoon I will normally read research papers to find out the latest discoveries in my field. I will also finish experiments and hopefully see some nice results!

My Interview

How would you describe yourself in 3 words?

curious, careful, logical

What or who inspired you to follow your career?

Family and friends.

What was your favourite subject at school?

It kept switching, but I guess I settled with Biology in the end. I also liked Economics.

What did you want to be after you left school?

I had no idea, so I just decided to keep studying!

Were you ever in trouble at school?

I was once suspended for breaking an 'unbreakable' chair - it proved not to be but I faced the punishment.

If you weren't doing this job, what would you choose instead?

A crime scene investigator, or a train driver.

Who is your favourite singer or band?

Arctic Monkeys

What's your favourite food?

Anything with melted cheese on it.

What is the most fun thing you've done?

Flying a plane and firing a rifle at cadets when I was at school (not at the same time).

If you had 3 wishes for yourself what would they be? - be honest!

Being slightly taller, being better at sport, being able to stay awake during movies.

Tell us a joke.

Why are farmers so competitive? Because they all claim to be the best in their field.

My profile link:
https://ias.im/u.212937
---
---
---
---